What Inflation Means for Your Insurance & Business
Swiss Re Corporate Solutions is closely monitoring two types of inflation that may be relevant to your business and E&O insurance: consumer price index inflation and social inflation. In these continually uncertain times, we hope this will help you understand what we are looking at and not only how it affects E&O insurance, but how it affects your clients.
Consumer Price Index (CPI) Inflation
This type of inflation is measured by the consumer price index, which is defined as the price change of a basket of goods or services typically purchased by specific groups. This inflation index rose 7.5% in 2021 and to an annualized rate of 8.3% for April 2022 — the highest level in 40 years.
Why does this matter to you? Because it drives up the overall cost of claims. Consumer price increases result in paying more on claims due to rising attorney fees for claims defense and higher actual claim values. For instance, due to inflation, the cost of rebuilding a home that burned down may be 20% more for materials and labor than it was 3 years ago.
Social Inflation
This type of inflation is related to strategies used by plaintiff attorneys to inflame juries and increase jury awards. Our defense counsel use strategies to combat these emotionally charged tactics, but it can be an uphill battle.
Inflation: Protect your clients, Protect yourself
Inflation can create exposure risks for insurance agency clients. Rising construction costs could mean that a building that was adequately insured a year ago may now be underinsured. Though agencies are not responsible for determining the appropriate limits, you should recommend that your customers reconsider the limits on their policies in light of inflation. Some carriers have sent out notices to policyholders similar to the following.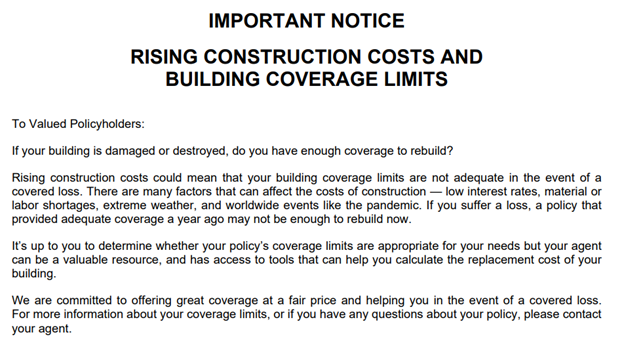 If your carriers are not sending a similar message, you may consider encouraging them to do so. You should communicate a similar message to your customers:
Policy limits that were adequate as recently as a year ago may now be inadequate due to steeply increased construction costs.
Even if a partial loss is within your current limit, a substantial coinsurance penalty may be assessed if the property is no longer 'insured to full value'.
Customers should use available resources to reassess the adequacy of their limits and, if needed, ask you to quote higher limits.
There is a "Sample letter for information regarding increased building costs" available on the E&O Guardian Website, which is the exclusive E&O risk management website for IIABA members who are also insured by companies within the Swiss Re Corporate Solutions group. This and other sample letters are there for you to adapt for your agency.
Unfortunately, if your client finds themselves underinsured, they may look to your agency to make them whole.  To avoid or mitigate an E&O claim we recommend the following best practices.
Customer Communication Best Practices
Good: Have a conversation with your clients at renewal and explain that due to inflation they may be underinsured now when they were not in the past.
Better: After you have had this conversation, make a contemporaneous note in your Agency Management System documenting the conversation.
Best:  After you have had this conversation, follow it up with a letter to your client documenting the conversation.
Finally, when you have offered them higher limits and if they reject them, make sure you have them sign that they are rejecting the higher limits.  Otherwise, you may find yourself in a "he said, she said" situation.
Remember, if you are insured with Swiss Re Corporate Solutions, your deductible will be waived (up to $25,000) if there is a written, contemporaneous documentation of the refusal of any customer to accept any type of coverage or limit offered by you and a subsequent claim alleges the failure to secure that coverage or limit.
While it is impossible to know what the future holds, by looking to our history we can provide advice and tools that will help you better service your clients and hopefully, avoid or mitigate an E&O claim.
*Elizabeth Whitney, J.D. is  the Head of US Agents, Senior Vice President, Senior Vice President, Swiss Re Corporate Solutions.  Elizabeth is a licensed attorney who has spent the last 24 years focused on various aspects of professional liability including claims, risk management and underwriting.
Insurance products underwritten by Westport Insurance Corporation and Swiss Re Corporate Solutions America Insurance Corporation, Kansas City, Missouri, members of Swiss Re Corporate Solutions.     
This article is intended to be used for general informational purposes only and is not to be relied upon or used for any particular purpose. Swiss Re shall not be held responsible in any way for, and specifically disclaims any liability arising out of or in any way connected to, reliance on or use of any of the information contained or referenced in this article. The information contained or referenced in this article is not intended to constitute and should not be considered legal, accounting or professional advice, nor shall it serve as a substitute for the recipient obtaining such advice. The views expressed in this article do not necessarily represent the views of the Swiss Re Group ("Swiss Re") and/or its subsidiaries and/or management and/or shareholders.